Description
dBWav is powerful and user-friendly acoustic analysis software developed by our friends at Marshall Day Acoustics.
Struggling with large data sets? dBWav comfortably handles processing of large files and long term recordings, offering a high-level review of data sets for quick identification of features and trends.
Key features:
Process multiple files from multiple recorders in a single run
Easily apply SoundTrap factory calibration
Calculate broadband levels: RMS, Min, Max, Peak, SEL, percentiles
Calculate 1/3 octave band levels
Tag key events and time periods
Playback audio and display spectra
Apply marine weightings for assessment to NOAA criteria
dBWav is specifically tailored for hydrophone recordings and works seamlessly with SoundTrap data files.
For more information check out Marshall Day Acoustics dBWav's home page or their 6 part video tutorial series.
Sold as a perpetual license sold according to the terms and conditions below. The license includes email support provided by Marshall Day Acoustics. Upon purchase you will be emailed a license code and link for software download within two working days.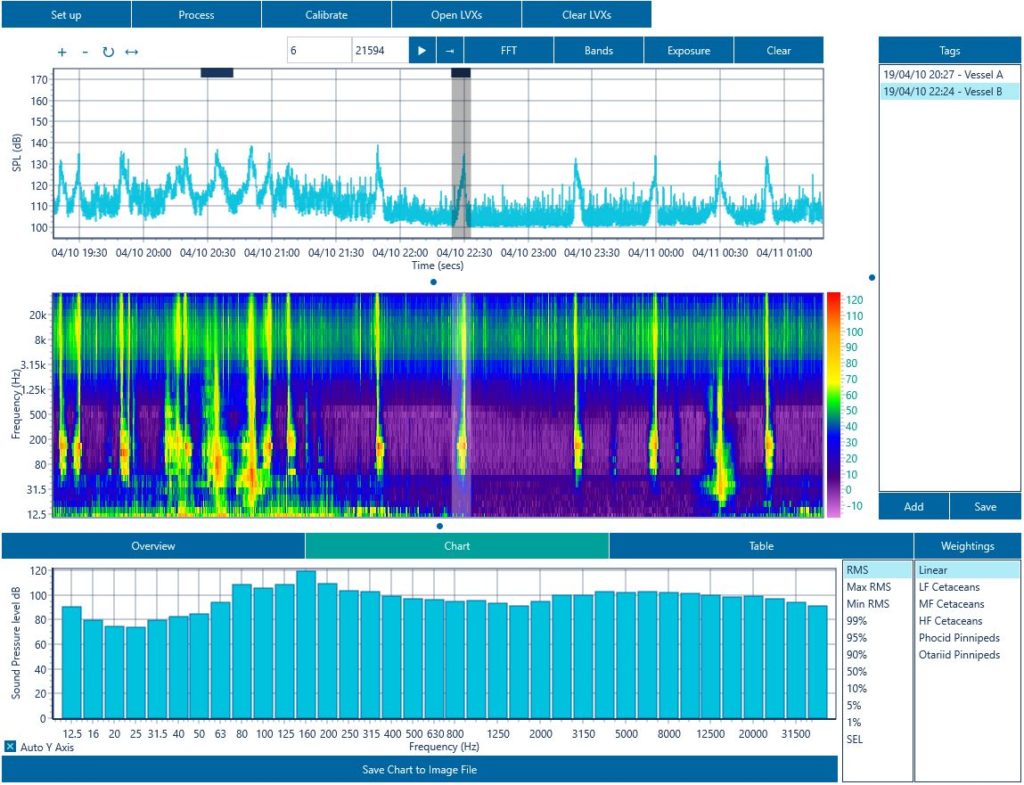 Technical Details
Input: 16, 24 or 32 bit PCM .wav files with sample rates from 48 kHz to 576 kHz
Outputs:
Broadband average (RMS) levels
1/3 octave band average levels from 12.5 Hz to 200 kHz (sample rate dependent)
Class ratings:
1/3 octave band filter frequency responses to IEC 21260 standard Class 1 for sample rates above 96 kHz
1/3 octave band filter frequency responses to IEC 21260 standard Class 2 for sample rates between 48 kHz and 96 kHz
Overall percentile levels are calculated in accordance with ISO 1996-2 2017 (Section 9.3.2.4) for averaging times of one second and below.
Operating system: Windows 7 and above (64 bit only).
Terms and conditions
Please be aware that all sales and support for the product will be provided by Marshal Day Acoustics.
Before purchase please review the end user license agreement here.